Manual Account Verification
How do I manually verify my account?
Kindly follow the steps below to manually verify your identity.
Step 1: Go to the Verify Your Identity page
On the menu, click on 'Settings' and then click on 'Verify Identity'.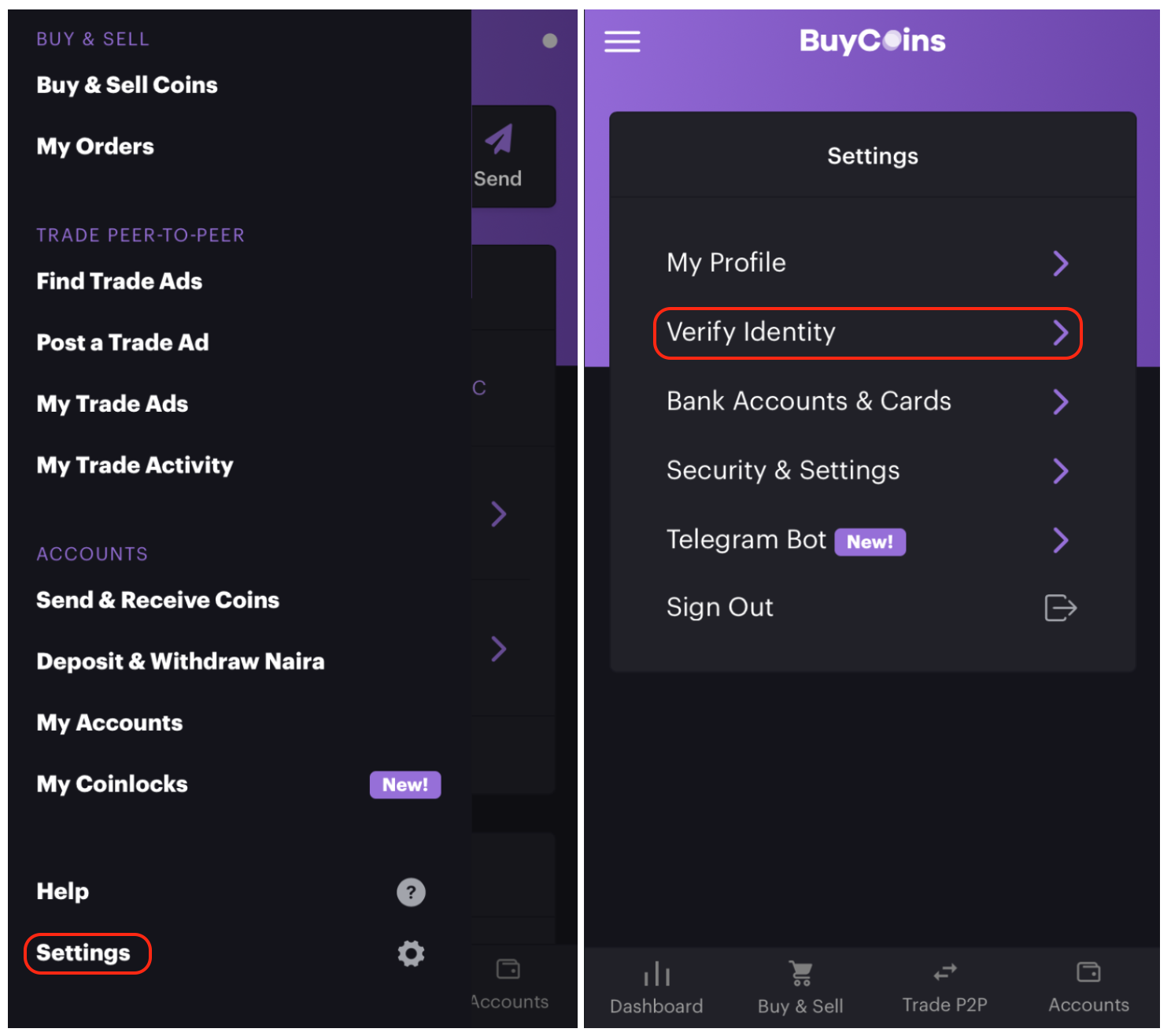 Step 2: Click on Manually Verify your Identity
Clicking 'Verify Identity' should take you to the verifications page which shows your verification status. Then click on 'manually verifying your identity' in the Phone Number section.
Remember that the reason for manually verifying your account is if you no longer have the phone number registered with your BVN or if for some reason, you aren't receiving OTP's to the phone number registered on your BVN.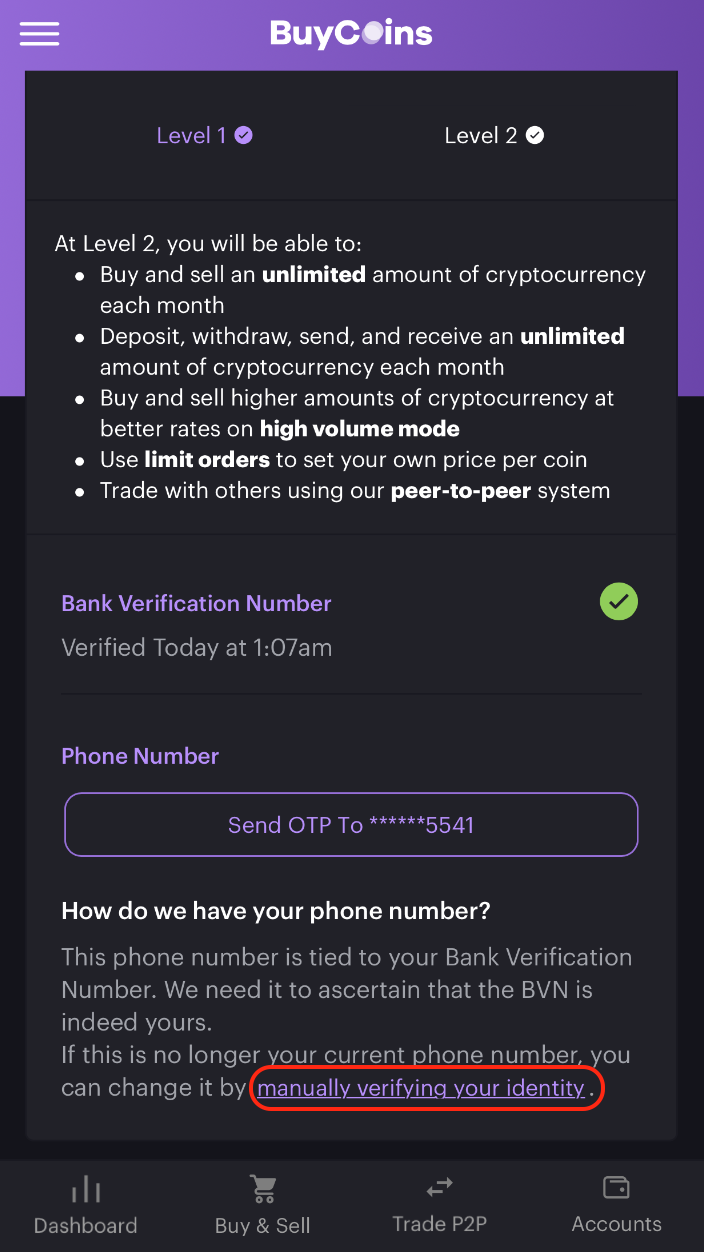 Step 3: Attach proof of identity
Clicking on 'Manually verifying your identity' should bring up a "Manual Identity Verification" pop-up to attach your proof of identity document.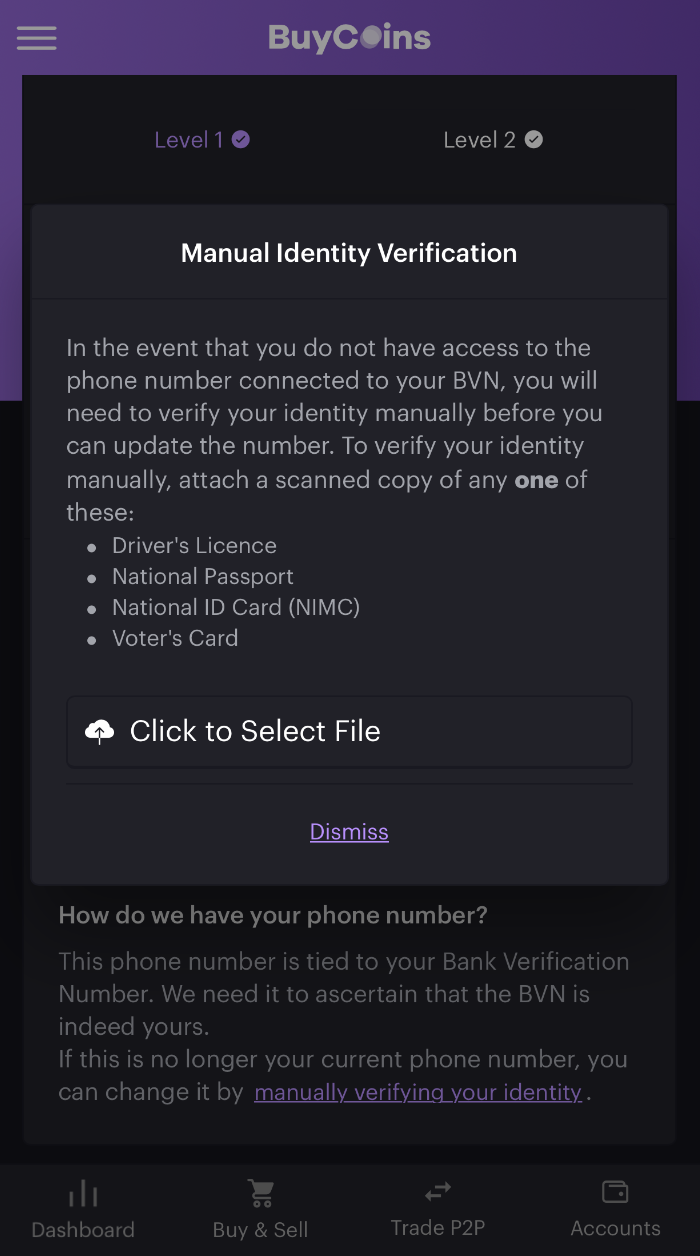 Select ID card image/ scan from your camera roll or documents. When you do this, your document will be uploaded into our system and then processed. Hold tight while it's being analysed and await a confirmation email from BuyCoins Support. This ID card verification process takes about 12 hours.
Step 4: Edit your profile
After you receive your confirmation email from BuyCoins Support, add your current phone number to your profile. To do this, click on the menu button at the top left corner of your dashboard. Then go to 'Settings' and click on 'My Profile'. Type in your current phone number in the phone field and click 'Update'.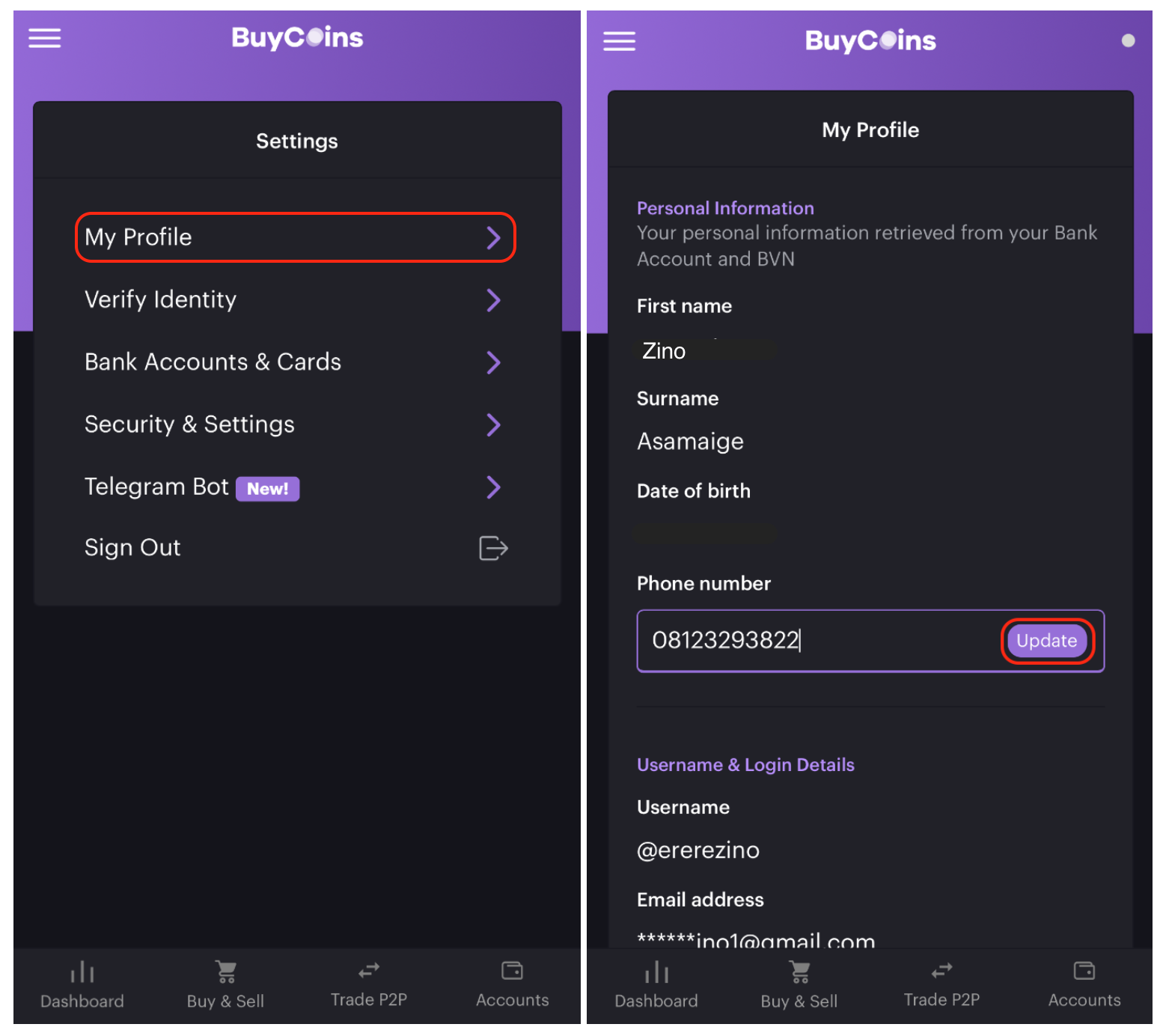 Step 5: Verify your phone number
After adding your current phone number to your BuyCoins account, the next step is to verify it. To do this, click on 'Verify Identity' from the 'Settings' menu. From the verify identity page, check that the last four digits in the number field match the ones in your current phone number and click 'Send OTP' to receive a one-time password (OTP). Input the OTP in the text fiend and click 'Submit'.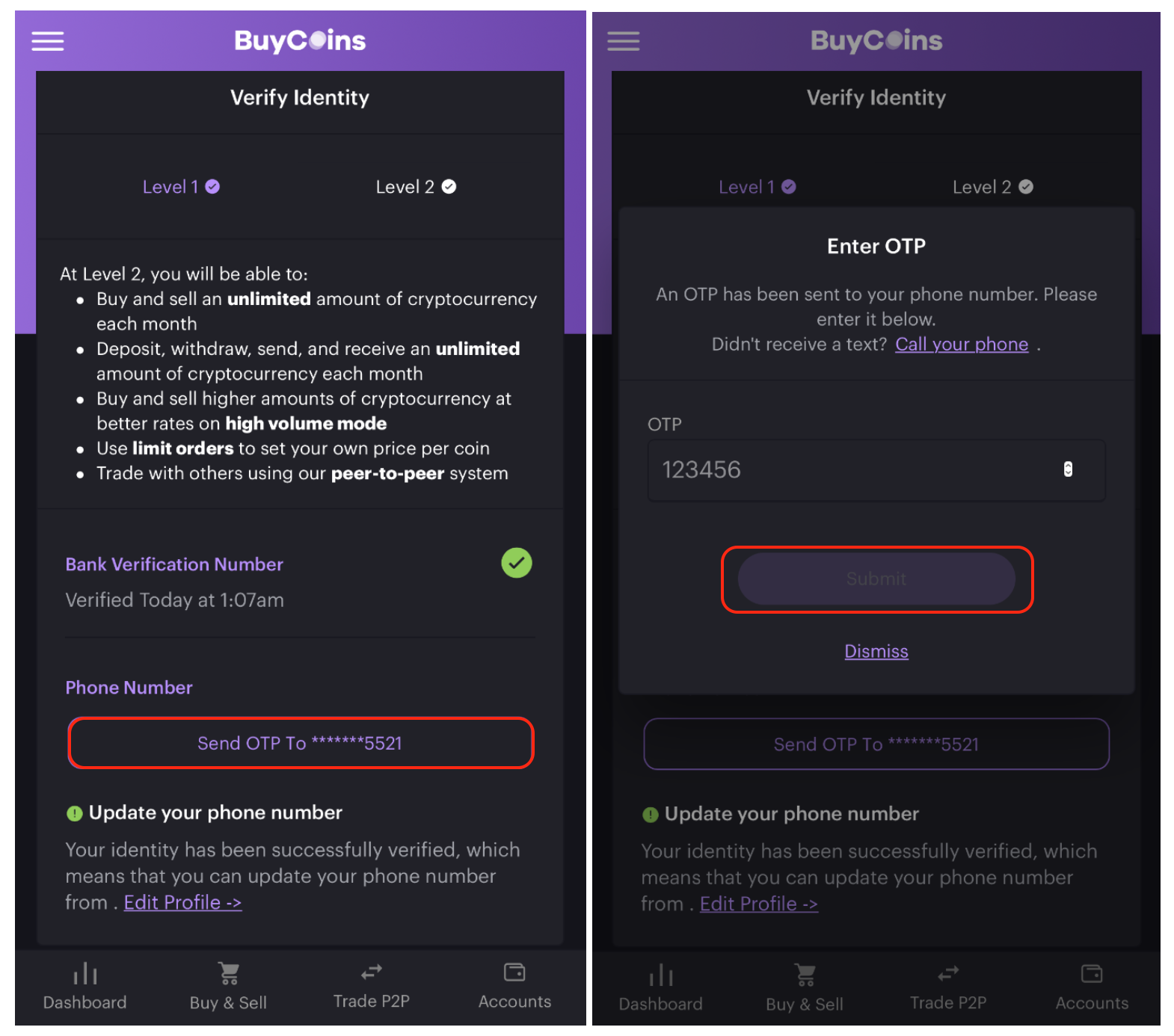 Step 6: That's all!
After verifying your phone number, you should see two green ticks beside 'Bank Verification Number' and 'phone number'. You should also get a pop-up message saying 'successfully verified phone number'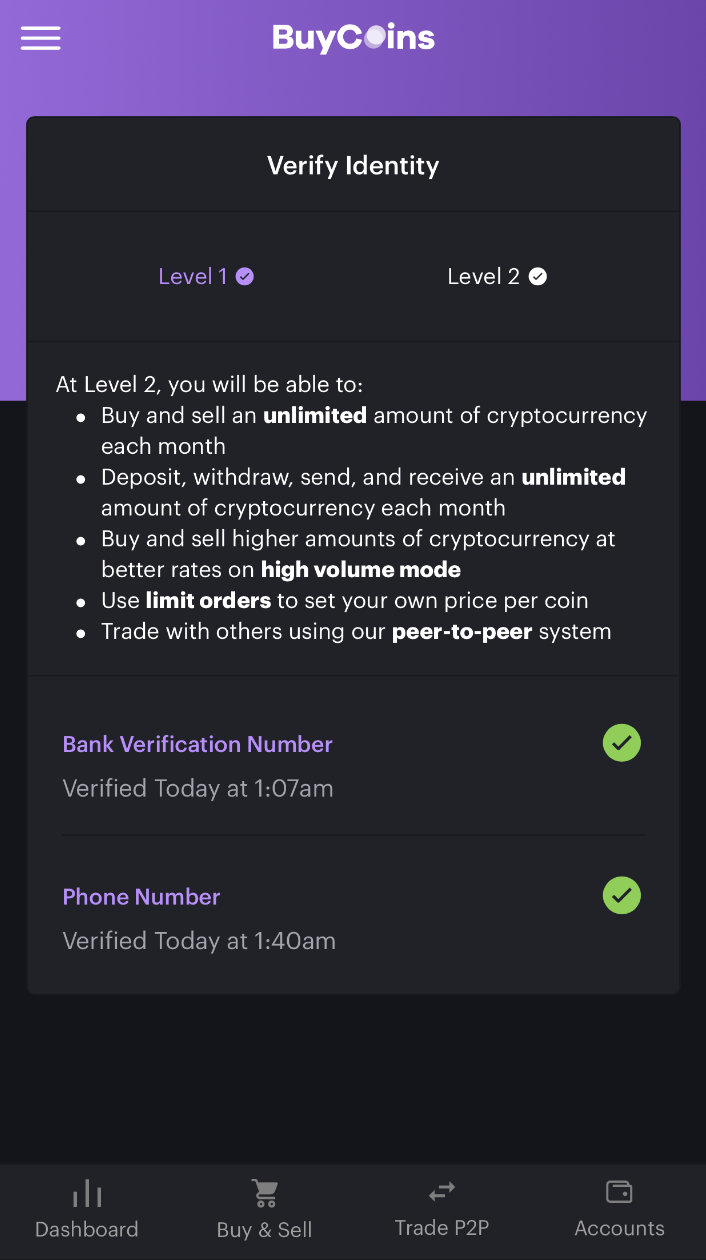 That is all! You are now a tier 2 user.
---
---