How to Post a Buy Trade Ad
Peer-to-peer trading on BuyCoins is a platform where users can to buy or sell Bitcoin amongst each other. Trading Peer-to-peer on BuyCoins is easy, safe and secure. This is because we provide escrow services; meaning that we hold the Bitcoin intended for sale until after payment has been confirmed by the seller. Our fees are also the cheapest you'll get. This is because our margin on peer-to-peer trading transactions is only 0.4%, lower than any other platform on the continent.
To be able to trade peer-to-peer on BuyCoins, you need to have a fully verified account and be logged in. If you don't have a BuyCoins account, you can create one here.
Trade Ad Requirements
In order to post a trade ad on BuyCoins, you must meet the following requirements:
Your account must be completely verified. You can find out how to do that here.
If you want to trade peer-to-peer on BuyCoins, you need to have internet/ mobile banking.
If you want to post a sell trade ad, your wallet available balance must have at least the maximum amount you intend to sell.
Step 1: Go to the Post a Trade Ad page
You can get here by clicking the menu icon and selecting 'Post a Trade Ad' from the 'Trade Peer-To-Peer' menu.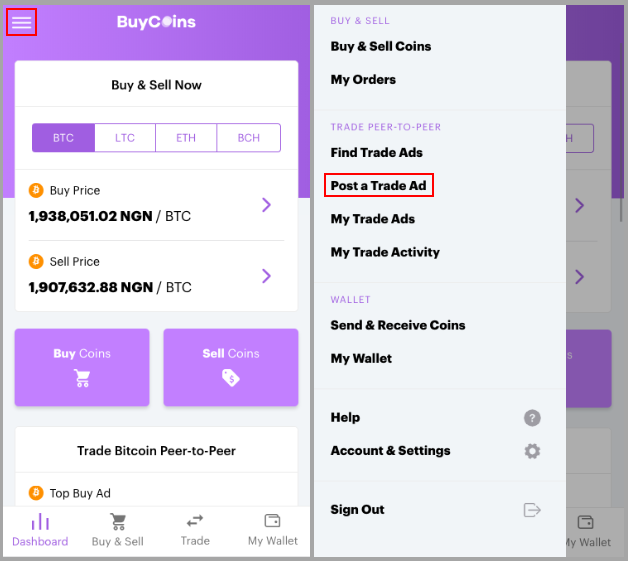 Step 2: Create a buy trade ad
To post a buy trade, select the 'Buy BTC' option on the 'Post a Trade Ad' page and set your price per BTC. If you would like to set a dynamic price, you can find out how to do that here.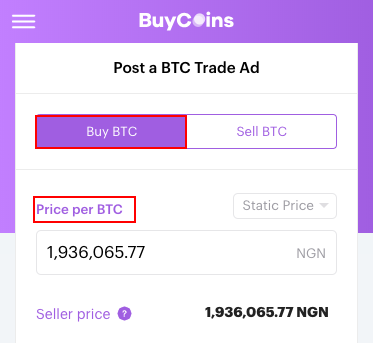 Step 3: Set your buy trade ad preferences
From the 'Post a Trade Ad' page, set your trade ad preferences by selecting the price per unit of BTC you are willing to buy, and the minimum and maximum amounts you're willing to buy. You can set your preferred price according to your needs and how quickly you want to buy.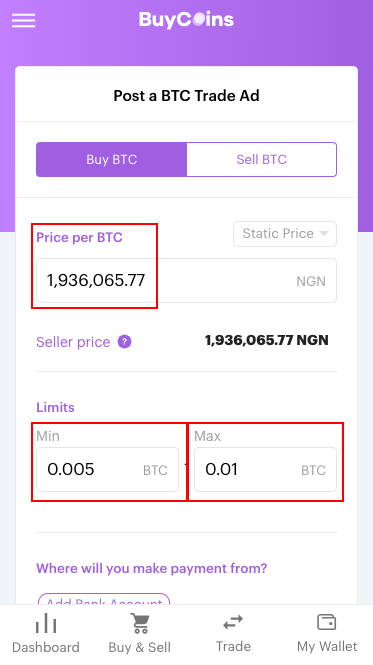 Step 4: Add your internet banking enabled bank account
After setting your trade ad preference, add the bank you would like to make payment from. Click on 'Add Bank Account' and fill in your bank information in the 'Add a Bank Account' page that pops up. You also need click on 'I have Internet/ Mobile Banking'. Click on 'Save Account' when you're done adding your payment bank information.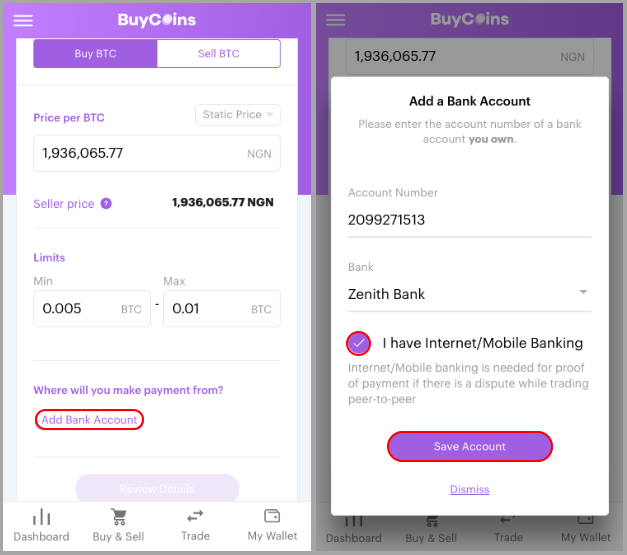 Internet/ Mobile Banking is really important because it is necessary for proof of payment if there's a dispute while trading peer-to-peer.
Step 5: Confirm trade ad
After adding the information of the bank account you wish to make payment from, click on 'Review Details'. After clicking on 'Review Details', you will be taken to a 'Confirm Trade Ad' page where you go through the details of your buy trade ad and confirm that the details are correct, then click 'Post Buy Trade Ad' after you're satisfied with the information displayed.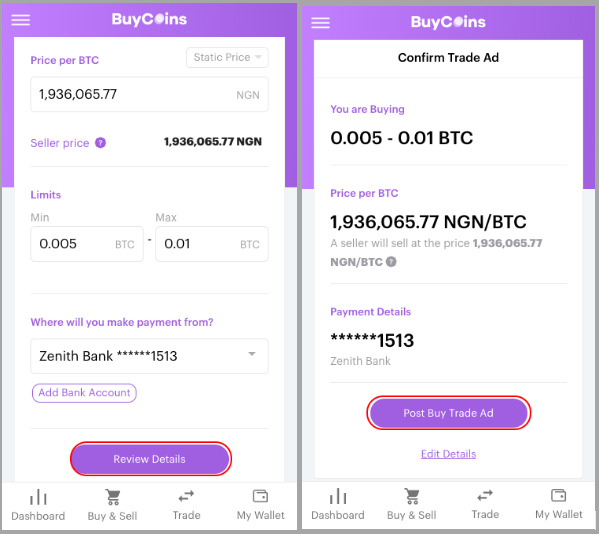 After clicking on 'Post Buy Trade Ad', you then see a summary page of your trade ad.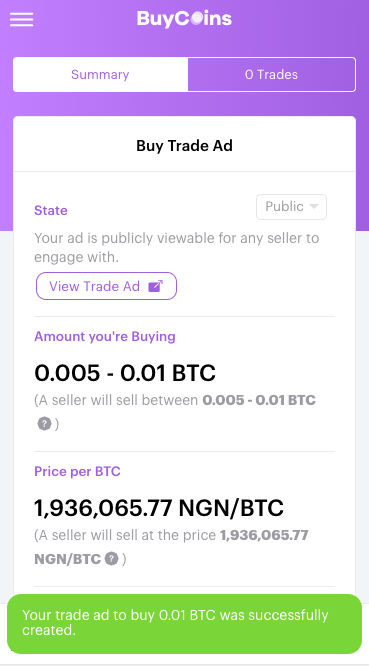 Step 6: Select the state of your buy trade ad
After successfully posting a buy trade, the trade becomes public. However, there are three states your trade ad can be in.
Public: This means that your trade ad is viewable to everyone.
Inactive: This means that yourd trade ad is viewable only to you.
Retired: This means your trade ad is closed and can no longer be interacted with by you or a seller.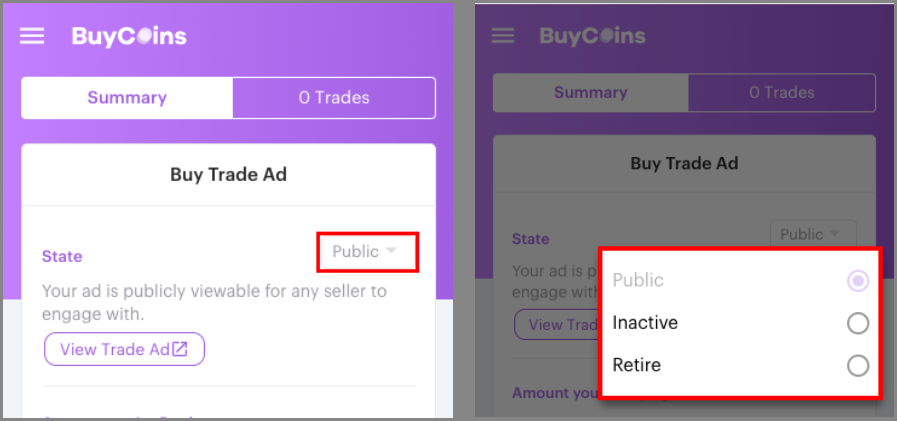 You can learn more about setting your trade ad state here.
---
---