Selling Peer-to-Peer
Selling Peer-to-Peer on BuyCoins involves interacting with a buy trade ad or posting a sell trade. You can find out how to post a sell trade ad here. This articles shows the process of interacting with a buyer.
Selling Peer-to-Peer Requirements
BuyCoins provides escrow services; meaning that all Bitcoin intended for sale are first deposited by the seller, held by BuyCoins, and then dispensed to the appropriate buyer(s). Therefore, in order to post a trade ad, you must meet the following requirements:
Your account must be completely verified. You can find out how to do that here.
If you want to trade cryptocurrency peer-to-peer on BuyCoins, you need to have internet/ mobile banking.
If you want to sell cryptocurrency peer-to-peer, your wallet available balance must have at least the maximum amount you intend to sell.
Step 1: Go to the My Trades page
When your Trade Ad is being interacted with, you will receive an email to show that a buyer is engaging with your trade. You can view the trade engagement by clicking the menu icon and select 'My Trades' from the 'Trade Peer-To-Peer' menu. When you do this, you'll see a message saying 'Waiting on payment from @buyer'. This means that the buyer has agreed to buy from you at your price. Click on the trade.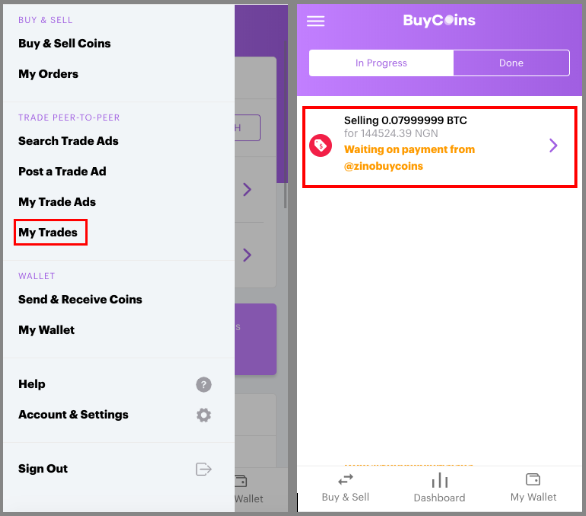 Step 2: Wait for payment from buyer
After clicking on the trade, you'll see your payment details (Bank Account) which you chose to receive payment, the amount to be paid to you and the deadline the buyer has to make payment.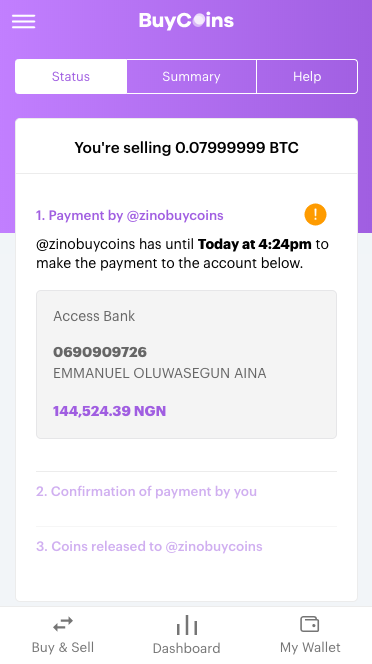 Step 3: Confirm payment
When the buyer makes payment, you will be notified via mail and the status page of the page will have a 'I've Received Payment' button. Confirm from your bank orcheck your bank statement that you have received payment. After confirming, click on 'I've Received Payment'. You'll then get a pop up message asking you to confirm that you have actually received payment. If you have indeed received payment, proceed to click on 'Yes, Confirm'.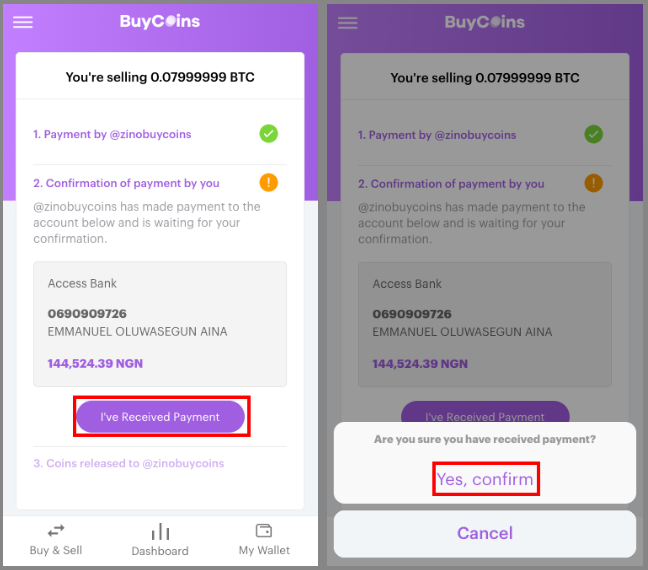 *Please note that after confirming payment, the trade cannot be reversed
Step 4: Rate buyer
After you have confirmed receipt of payment, you will be asked to rate the trade either good or bad. When you've rated the trade, all three steps of the trade will be ticked green.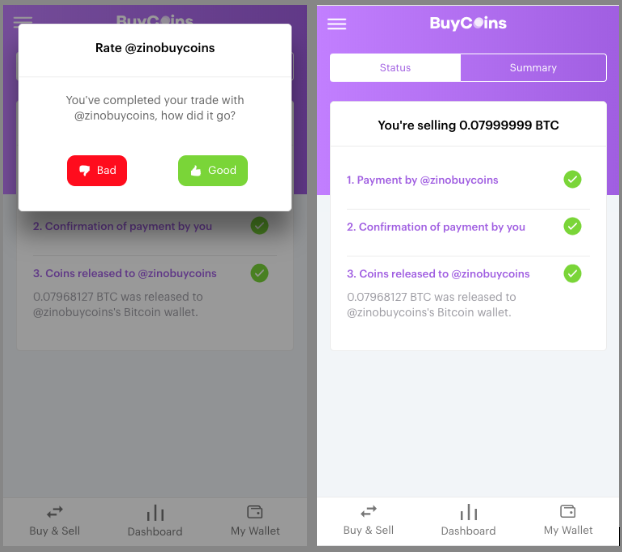 Other articles that can help make your BuyCoins experience better include: How to Post a Buy Trade, How to Post a Sell Trade, Buying Peer-to-Peer.
---
---